Mysore Day Trip from Bangalore
Mysore is one of the most visited tourist destinations in South India. Now known as Mysuru, it is one of the largest districts in Karnataka. Formerly known as the capital of the 'Kingdom of Mysore', Mysore was also the name by which the state of Karnataka was called.
The city is loved for its majestic buildings along with its flamboyant imperial heritage. Its Mysore Grand Palace is a UNESCO world heritage site that attracts millions of visitors throughout the year. In addition, the Ambavilasa Palace is also one of the prime attractions  known for its splendid architecture.
Mysore is also a burgeoning centre for the production of superior quality incense, silk and sandalwood. At present, the Ashtanga Yoga is another big draw that attracts many tourists from around the world. Mysuru has built a solid  reputation of being India's best city to learn yoga.
Dasara (Dussehra) which represents the victory of Good over Evil, commemorates the worship of Devi Chamundeshwari in splendour and glory. Mysore Dussehra is celebrated with fervor and solemnity as the Karnataka State festival for 10 days.
Combining Wellness and a Holiday with Shathayu Yoga Retreat.
This City of Palaces has a number of tourist attractions within the confines of the city.  Mysore tourist hotspots attract millions of visitors from across the country every year.
Bangalore is famous for super-specialty clinics, ayurvedic & naturopathy medical facilities offering  travellers effective lifestyle treatments at affordable prices. Tourists with lifestyle related illnesses can plan to get themselves treated at the many lifestyle based institutions in Bangalore city while taking time to visit some of the finest tourist attractions near the city.
It's a fantastic idea to combine a holiday to Bangalore by visiting Mysore for a day. Mysore offers some visual delights that tourists must not miss out. Planning an elaborate wellness holiday to Bangalore can be combined by doing a Mysore day trip. Mysore is just 140 km from Bangalore, so tourists can begin their travel early morning , complete the day tour and return to Bangalore late in the evening.
The Shathayu Ayurveda Yoga Retreat  is one such superlative institution, just 20 km from the Bengaluru International Airport. It is  located away from the hustle and bustle of the Bangalore Metropolis. We provides holistic wellness services that take care of the mental, physical, spiritual, social, and lifestyle aspects of customers staying at the centre.  Our wellness program is designed with over 120 years of ayurvedic practice passed down through five generations.
The Ayurvedic Yoga retreat is surrounded by hillocks on three sides with a perennial lake on the other offering side, offering a perfect ambience to recharge, recuperate and reenergize.  We customize our wellness programs to suit the specific needs of the customer.  Shathayu specializes in weight management, pain management and de-addiction. We also treat customers for migraine, asthma, spondylitis and many more. Please visit our Shathayu website in the like here.
12 Best Tourist Places for Tourists from Bangalore to discover
Shathayu Yoga Retreat recommends the following tourist hotspots in Mysore for all its customers.
1. Mysore Grand Palace
Mysore's Grand Palace is the top tourist place in Mysore. It is the official residence of the Wodeyar Royal Family. The palace attracts close to 60 lakh visitors annually and is the second most visited tourist spot after the Taj Mahal in Agra. Mysore palace is a three-story structure with elaborate marble tomes and a five-story tower.  A blend of Hindu, Rajput & Gothic styles makes this magnificent monument special.
The palace is set amidst a large garden, the entrance gate, and an arch holding the emblem and coat of arms of the Kingdom of Mysore. Festivities for the nine-day Dasara celebrations in Mysore start and end at the palace. A jumbo Savaree (elephant procession) of the Mysore Royals draws tourists from all over the world.
Ambavilasa Palace is a spectacular private quarter of the Mysore Royals. Tourists will be amazed at the grandeur and lavish lifestyle of the Wodeyar family. An architectural beauty, the palace contains a mosaic of beautifully crafted stained glass ceilings. Many Golden columns, captivating chandeliers with floral motifs are alluring for all who visit.
Mysore palace is open on all days except on Tuesdays. It is open to the public between 10:00 am to 5:30 pm. An entrance fee of Rs 40 for adults and Rs 20 for children.
2. Mysore Zoological Gardens
The Mysore Zoological Garden is a zoo spread over 167 acres and attracts over 45,000 visitors daily. It is home to over 1500 creatures with over 168 varieties of bird, mammal, and reptilian species.
The wild animals conserved here include
Big Cats: Tiger, Leopard, Lions, Jaguar & Cheetah
Small Cats: Jungle Cat, Leopard Cat, Indian Civet.
Deer & Antelope: Nilgai, Spotted Dear, Black Buck, and Barking Deer.
Large Mammals: Asiatic & African Elephants, Rhino, Hippopotamus & Gaur.
Reptiles: Anaconda, King Cobra, Indian Cobra, Crocodiles & Iguana.
Aquatic Birds Ducks & Terrestrial Birds: Pelicans, Flamingo, Macaws, Indian Hornbill, Carolina Wood Duck, Ostrich Emu.
A 150 million year old fossilized  tree is a key attraction at the zoo. Visitors upon seeing the fossilized exhibit would be amazed at how life on earth began millions of years ago.
The Zoo is open all days except on a Tuesday between 8:30 am to 5:30 pm. An entrance fee costs Rs 80 for adults and Rs 40 for children.
3. Srirangapatna Town
Srirangapatna is just off the Bangalore Mysore National highway. It is the epicenter of the fourth Anglo-Mysore war between the British East India Company & Tipu Sultan. Srirangapatna was the place where Tipu laid his life fighting the British.  Tipu Sultan's bravery is illustrated with many monuments to commemorate historical events leading to his ultimate death.
Tourists will love the city's many attractions that include the imposing Srirangapatna Fort, Daria Daulat Bagh, and the Sri Ranganathaswamy temple.  Gumbaz is the burial chamber of Tipu Sultan and Haider Ali, Tipu's father. The Jama Masjid built by Tipu Sultan has a small dome and is painted white. Sri Ranganathaswamy Temple is a beautifully carved temple complex dedicated to Lord Ranganatha, an avatar of Lord Vishnu in the Hindu religion.
The river Kaveri surrounds the temple in a divine embrace, adds to the beauty of the temple. The temple has a rich history, with its beautiful gopuram and intricate architecture makes it a must-visit when visiting the town. Srirangapatna is open to tourists throughout the year.
4. Srirangapatna – Ranganathittu Bird Sanctuary
The Ranganathittu Bird Sanctuary is home to a wide variety of migratory birds. A joyful boat ride to catch a glimpse of these colorful birds in vibrant plumes is a favorite activity for tourists visiting the sanctuary. It's the largest bird sanctuary in Karnataka; spread over 40 acres consisting of 6 islets of the Kaveri River. These islands consist of a trove of broadleaf forests, which attract migratory birds throughout the year.
More than 40,000 birds of 170 species make Ranganathittu their home throughout the year. The most common bird sightings include the painted stork, Asian Openbill stork, common spoonbill, woolly necked stork, black-headed ibis, lesser whistling duck, stork-billed kingfisher, egret, spot-billed pelican, and heron.
Wild animals like the bonnet macaque, smooth coated otter, and mugger crocodiles visit these waters from time to time. Ranganathittu is open on all days from 6:00 am to 6:00 pm. An entrance fee costs just Rs 50 per person.
5. Srirangapatna – Balmuri Falls
Balmuri falls is the place to be to enjoy a fun-filled time in the water. Visitors can have an enjoyable time playing in the water with family and friends. It's a check dam across the Cauvery River that creates a 6-foot water cascade that turns it into a holiday spot for the young.
Balmuri's lush green surroundings create an enjoyable environment for some fun in the water. The falls are free for all and can be visited anytime between 8:00 am to 6:00 pm.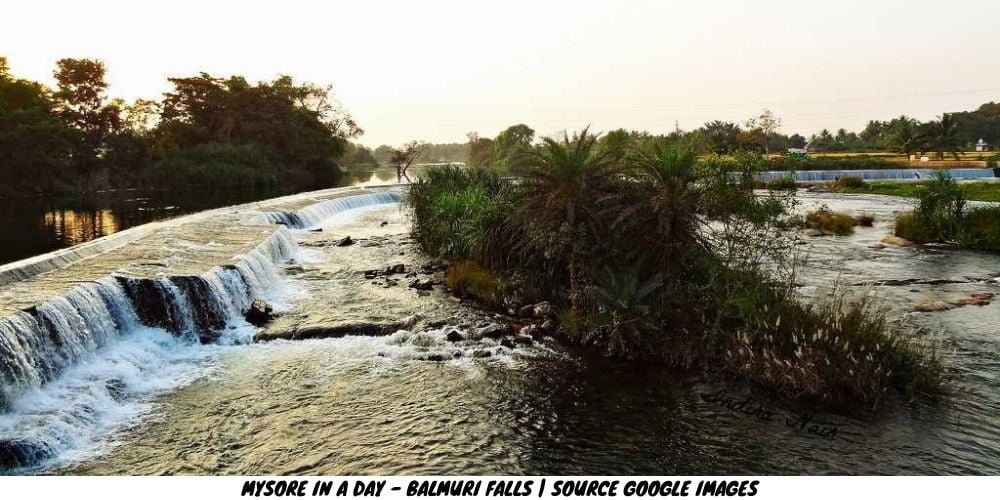 6. Srirangapatna – Daria Daulat Bagh
Daria Daulat Bagh is also called Tipu's Palace. A well-maintained flower garden & monument in Srirangapatna town. The Daria Daulat Bagh is a wooden palace set amidst a splendid garden & contains intricate architecture.
The palace houses the Tipu Sultan Museum that exhibits many of the ruler's belongings. Persian manuscripts, frescos & paintings are also on display at the palace. The palace is open all days from 6:00 am to 6:00 pm and costs Rs 20 as entrance fees.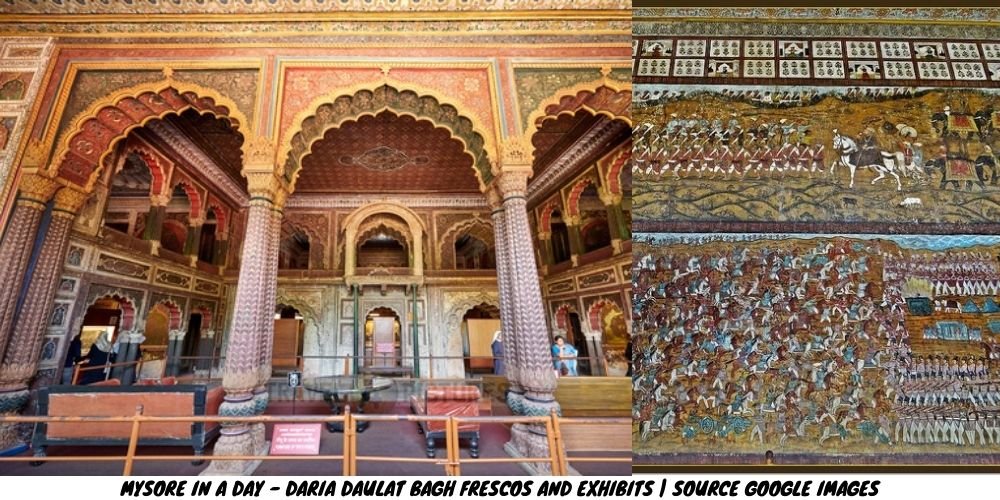 7. Mysore – St Philomena's Church
St Philomena's Cathedral is a Catholic church constructed in 1936, using a Neo-Gothic style inspired by the Cologne Cathedral in Germany. Scenes from the 1977 Hindi Bollywood Film Amar Akbar Anthony were shot inside the Church.
This large church complex can seat up to 800 people. Stained glass windows depicting scenes from the birth of Christ, the Last Supper, the Crucifixion, the Resurrection, and the Ascension of Christ are key attractions. It is considered Asia's second-largest church.
8. Mysore – Jaganmohan Palace & Art Gallery
Jayachamarajendra Art Gallery displays a rich collection of artwork. It offers a peek into the world of the Mysore Royals and the days of a by-gone era. This art gallery boasts of preserving over 2000 paintings of celebrated artists from all over the world.  Works of Rembrandt, considered one of the greatest Dutch artists, are also displayed.
Many styles of Indian painting like Mughal, Mysore, and Shantiniketan can found here. Raja Ravi Varma paintings are the key attraction to tourists to the art gallery. The monument is open all days from 8:30 am to 5:30 pm and costs Rs 20 as an entrance fee.
9. Mysore – Chamundi Hills
Chamundi Hills is the abode of Goddess Chamundeshwari, the presiding deity of the city of Mysore.  The Sri Chamundeshwari Temple at the summit is to Goddess Chamundi. Chamundi is a fierce form of Shakti.  She is the slayer of many demons like Chanda, Munda, and the powerful Mahishasura.
The Chamundi hills are a protected forest area where many birds and animals thrive. It's a vantage point from where visitors can view Mysore city from a distance. A motor-able road and a 1008 step pathway are the two means of reaching the Chamundi peak.
A key feature is the statue of Mahishasura bearing a sword in his right hand and a cobra in the left.  Chamundi temple's sanctum is home to a sculpted depiction of Chamundeshwari. She is seated with her right heel pressed against the lowest of the seven chakras. This cross-legged yogic posture echoes the posture of Lord Shiva. Devotees are welcome to visit the temple on all days between 6:00 am to 9:00 pm. You can also learn more about the top tourist places around Bangalore city here
10. Mysore – Krishnaraja Sagar (KRS) & Brindavan Garden
The Krishna Raja Sagar Dam is a popular tourist destination near Mysore, loved by both the young and the old. Built-in 1924, it is one of India's first civil engineering wonders. The dam provides irrigation and drinking water to the cities of Mysore & Bangalore.
The Brindavan garden built beside the dam is a prime attraction famous for its water fountains and the light & sound show. Visitors have to purchase an entrance ticket to the dam complex; a boat ride around the grand fountain is also a must-do activity. The dam is open all day from 6:00 am to 8:00 pm and costs Rs 15 as an entrance fee.
Mysore Guru Sweets – Mysore Pak delight never to be missed ..
A tour of Mysore is incomplete without savoring Mysore Pak at Guru Sweets. Mysore Pak was an invention of Mandapa, the owner of Guru Sweets. It was created at the behest of Maharaja Krishnaraja Wodeyar. Guru Sweet's version of the Mysore Pak is a simple recipe made of ghee, chickpea flour, and sugar syrup.  This sweet delight is sure delicious and will melt in your mouth.
A Fantastic Mysore Day Trip to cherish
It's that time of the year to pack one's bags and head to the Royal city of Mysore to escape the infamous Bangalore traffic. A delightful holiday to Mysore awaits every tourist from Bangalore. Reminiscent of your school days visiting Mysore this summer by enjoying a fun-filled day with the following enjoyable activities.
Be spellbound by the sheer magnitude of the Krishna Raja Sagar Dam.
Spend quality time with little ones at the Brindavan garden, while enjoying a spectacular fountain light & sound show.
Watch migratory birds in their natural haven at the Ranganathittu Bird sanctuary. Take a dip at the Balmuri Falls after visiting the historical town of Srirangapatna
Be awestruck by the splendor, grandeur, and opulent Mysore Palace and Jaganmohan Palace.
 Savor local delights by relishing Mysore Pak at Guru Sweets
"Mysore will leave you mystified with its quaint charm, rich heritage and magnificent palaces."